Guides
13 June, 2020
16 minutes read
How to Write a Synthesis Essay?
We've all wondered how to write a synthesis essay. Synthesis papers are hard to write and offering general advice on them is even harder. However, we will give it a try! Thanks to our expertise and excellent understanding of the subject, you can learn how to write a synthesis essay in no time. So, let's dive in!
We've all wondered how to write a synthesis essay. Synthesis papers are hard to write and offering general advice on them is even harder. However, we will give it a try! Thanks to our expertise and excellent understanding of the subject, you can learn how to write a synthesis essay in no time. So, let's dive in!
An excellent synthesis essay is based on in-depth analysis of multiple sources. Often it is the sources that dictate the style and method of writing used to analyze, debate, and argue about the ideas in the source material.
What is a Synthesis Essay?
A synthesis essay is a discussion that is based on two or more sources that can come from various places (television, radio, adverts, lectures) but, frankly, it mostly centers on written pieces. Students can be often be assigned to write these types of essays in History class. Their teachers might ask them to analyze a few sources talking about a single issue and synthesize them.
What Does it Mean to Synthesize a Text?
The definition of synthesis is 'the combination of components or elements to form a connected whole. So, to synthesize a text you have to combine information from a number of sources into a coherent paper.
Sure, dictionary talk on synthesis essay writing never makes much sense. So, to help you out here:
To synthesize your paper means to form a new perspective on an issue by placing extracts from sources next to each other.
One thing a lot of students have trouble with is understanding the difference between synthesizing a text and summarizing it. A summary of a synthesis essay reiterates the critical points of the text to provide an overview. Meanwhile, synthesis moves beyond this by contrasting the critical points of your knowledge on a subject to what other sources say about it.
Different Types of Synthesis Essays
There are mainly two types of synthesis essays – expository and argumentative.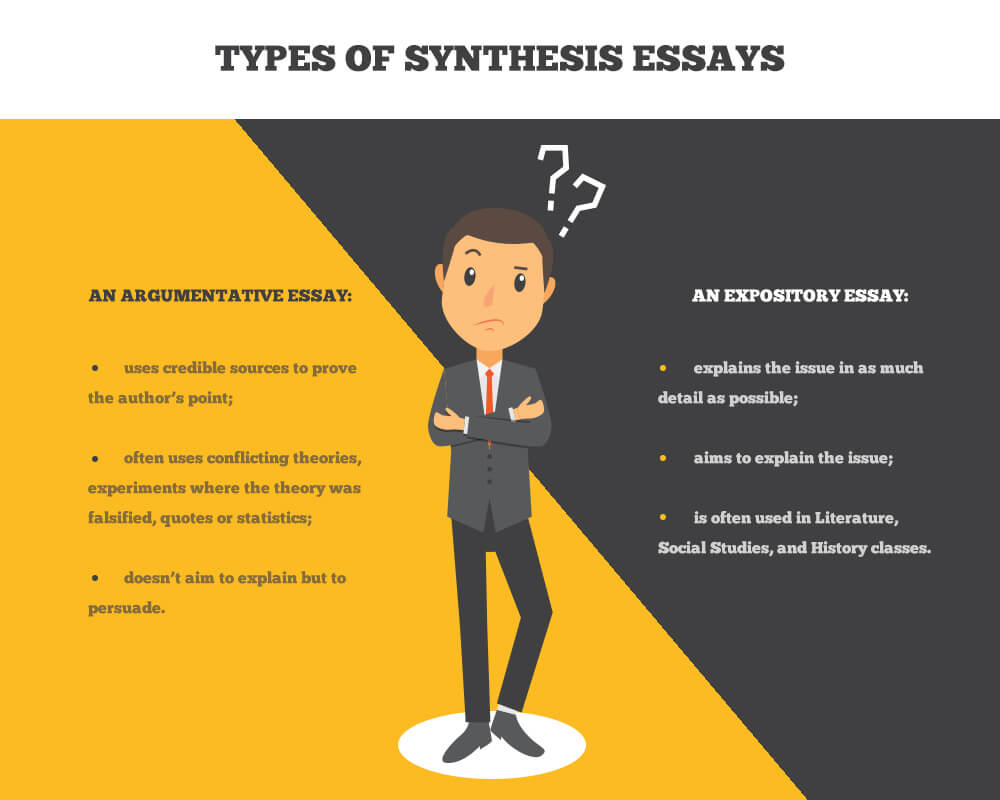 An expository essay explains the issue in as much detail as possible. Expository synthesis essay can also be called research synthesis essay at times. As an excellent synthesis essay example, you can check out any literature review on issues related to the social sciences, such as sociology, linguistics, or psychology. Alternatively, look for synthesis essay examples in books on History.
An argumentative synthesis essay is one where you're using the source material to prove your claim by citing credible conflicting theories, experiments where the theory was falsified, quotes or statistics. You're not seeking to explain. You aim to understand how to persuade and write an argumentative essay that supports and proves your argument.
The Purpose of a Synthesis Essay
The purpose of a synthesis essay depends on the type of essay you've received, the question that was set and its subject.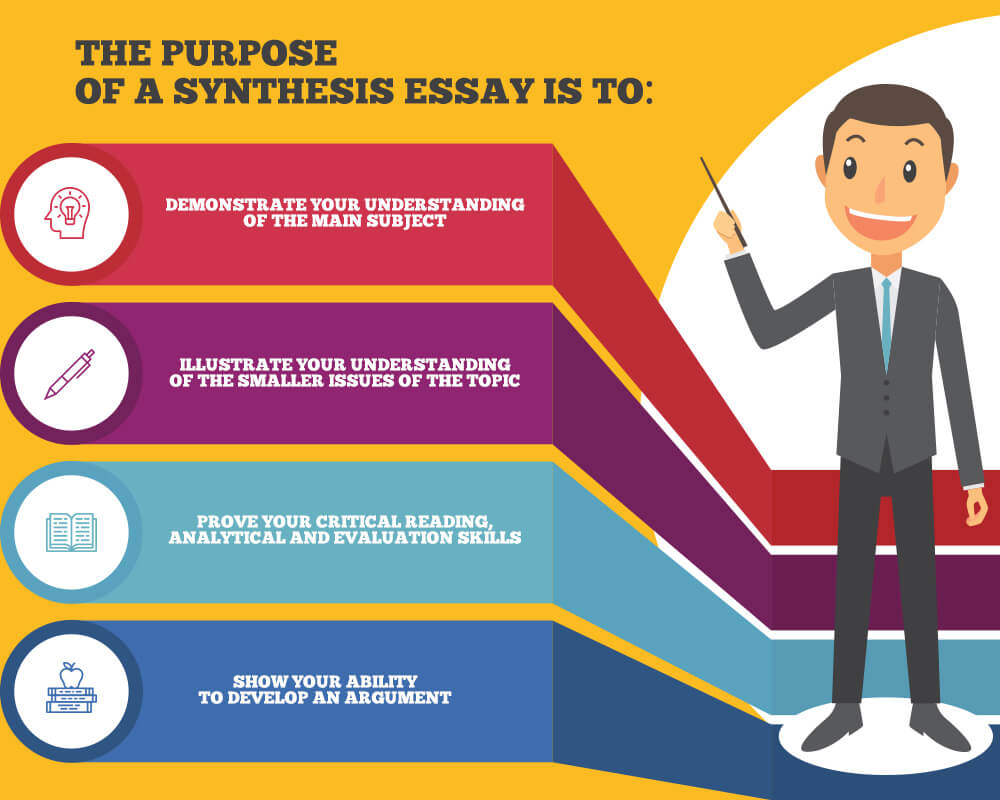 Advanced high-grade essays must demonstrate these four things:
Your understanding of the major issues presented in the synthesis essay.
Your understanding of the smaller issues in the sources.
Critical reading, analytical and evaluation skills.
Your ability to develop an argument.
Basically, the purpose of writing a synthesis essay is to assess your ability to form and defend a viewpoint using source materials.
How to Write a Synthesis Essay?
In general, the process of writing a synthesis essay consists of six steps:
Analyzing the source.
Choosing an interesting title.
Building an outline.
Crafting an introduction.
Developing the main body paragraphs.
Writing a conclusion.
So, if you are wondering how to write a good synthesis essay, we've got your back!
Now, let's take a closer look at each one of these points.
Analyzing the Sources
If you have been assigned sources for your synthesis essay, start with reading them in-depth, drawing out how they connect and looking for common themes. Thus, if you are making a comparison on how money is presented in literature, look for what the texts are saying about society's perceptions of wealth.
It goes without saying that you have to start with the sources. If there are two different perspectives in sociology, see what they have in common before you start working on a synthesis essay.
As you start to build a thread of interest, you can build up an argument or a thesis statement. It's best to choose sources that encourage discussion.
And unless you lived under a rock you know that the best way to draw connections and threads together is by using some visual aid or tool. This can save you hours of work and take your synthesis essay to a new level.
Choosing an Interesting Title
Start with a working title based on the core issue you're writing about. Don't worry about the first draft of your synthesis essay. You'll come back, clean it, and make it compelling later.
Besides, if you have been given a title, the taking out the keywords or the question can help you focus on the task too.
Nevertheless, bear in mind that the title has to be interesting. It should specify the problem and intrigue the audience. They need to want to keep reading your synthesis essay and to dig a little deeper into your exciting subject. In other words, grab their attention from the start and keep them on the hook!
Related Posts: Argumentative essay topics list
How to Write a Synthesis Essay Outline
Now, that you have studied the sources, understand the issue better and even have an interesting title for your paper, make sure you know how to create a perfect outline for your piece. It will keep you focused as you dive into the writing process and won't let you lose your sight of the thesis.
As a rule, synthesis essay structure consists of:
An introduction with a hook and a thesis statement;
Main body paragraphs with each one of them supporting the thesis;
A conclusion to summarize the whole piece.
Finally, comes the time to get the show on the road.
We will start the process with an introduction. After all, that's where it all begins!
Crafting an Introduction to a Synthesis Essay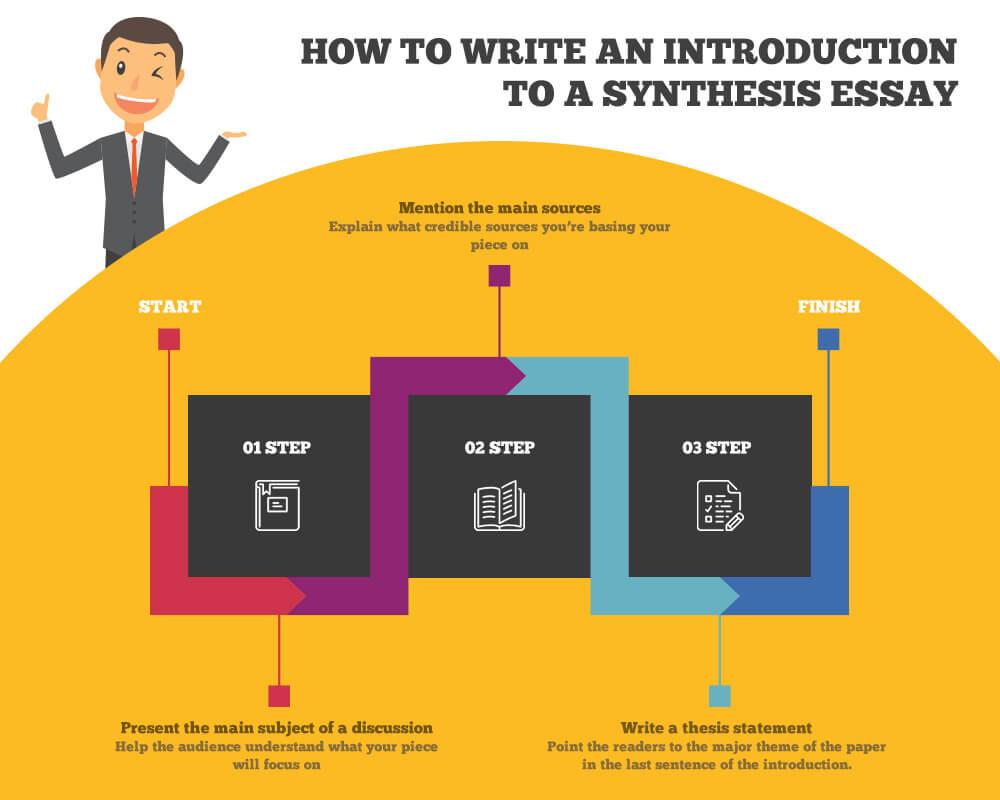 An introduction to a synthesis essay should:
Introduce the Topic You're Discussing.
This is used to clarify the theme or topic you will focus on based on the sources you chose. Here's an example of a synthesis essay introduction: 'The sources all discuss and agree that climate change is a serious problem that the world is facing today but disagree over what causes the problems and the solutions to it.'
Specify the Main Sources.
Let the readers know what you are basing your synthesis essay on. And explain how the theme or topic emerges in the text, or how the author in each text addresses the idea and why it is important. For example, 'Mr. Believer's speech on climate change recognizes that there is a real threat from the climate affecting the planet. He states that measures should be taken to reduce C02 levels. Meanwhile, Mr. Doubter's speech questions the science behind the above-mentioned plan using the anecdotal evidence to suggest that it's a natural change not affected by man.'
Introduce the Thesis Statement.
At the end of the introductory paragraph of a synthesis essay comes a thesis statement. It should answer the question succinctly and state your position on the issue or title of the essay. Moreover, it should explain why this issue is important and how the world would be different without you raising this problem.
If you are not sure how to write a thesis statement, here is our complete guide to help you out!
Here is how your thesis statement should go: 'Believer makes a compelling argument about how dangerous the climate change is as well as why we need to take an action now to prevent further damage by lowering the C02 emission.'
This is what a comprehensive introduction should look like. Now, let's move on to the next section of your synthesis essay.
Developing Main Body Paragraphs According to the MEAL Approach
An excellent way to structure the body paragraphs is in applying the MEAL acronym – Main Idea, Evidence and Analysis and Link Back.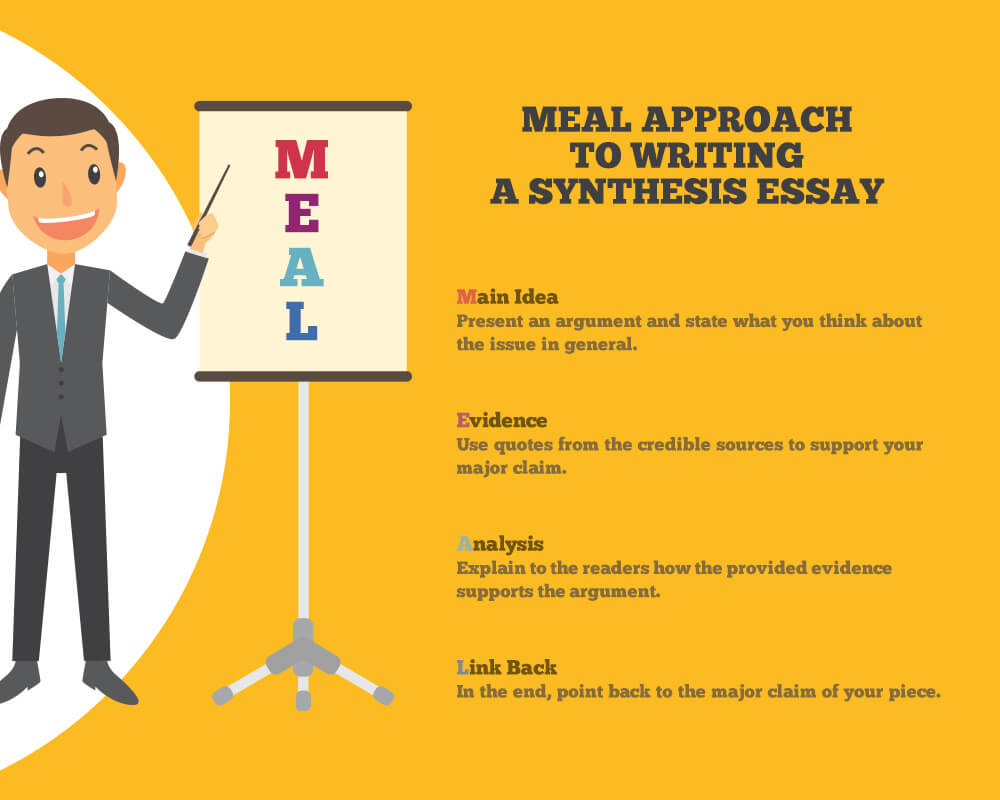 If that doesn't make much sense to you, let's see what it stands for when it comes to synthesis essay.
Main Idea
This is where you want to make a claim on the topic that presents an argument or an author's position.
With the climate change issue as the main subject of a synthesis essay, it can go something like this: "People may try to pass the climate change off as a hoax. However, there is an undeniable link between the human intrusion and CO2 emission problem on the planet."
Evidence
The evidence is a quote or a fact or a paraphrase from the sources you have been provided for a synthesis essay.'Mr. Believer states that 'CO2 is the cause of climate change' supporting his statement with credible scientific evidence.'
Analysis
At this stage of writing a synthesis essay, you need to specify how the evidence above proves your argument.'This demonstrates the global warming theory has significant backing in the scientific community.'
Link Back
This is just a link back to the central claim of your synthesis essay.'Although causal evidence cannot scientifically prove cause and effect, the number of studies cited in these sources find a correlation between an increase in CO2 emission and climate change.'
Last but not least comes a conclusion. Don't underestimate its potential in the synthesis essay: after all, this is often the only thing the readers will remember after finishing reading your piece.
Writing a Conclusion
It is vital to ensure that a conclusion has proper structure too.
Restate the thesis statement. Remind the readers what the main point of your synthesis essay was. It is always a good idea to help them remember it.
Mention the evidence. You used various sources to support your thesis statement in a synthesis essay. And a conclusion is the perfect time and place to remind of them. Don't take too long though. Just briefly go over each one of them. If someone forgot something and needs a more vivid reminder, they can go back to a particular place in your article and read it.
Call to action. This might not be applicable all the time. However, if you are trying to persuade the audience in something, you should definitely make sure that use your chance now to encourage them to take measures after finishing your synthesis essay.
All in all, in a conclusion you need to reiterate how the topics are a connection, include a suggestion or conclusion to the arguments.
Synthesis Essay Format for an AP English Exam
Knowing what format meets the requirements of the description of an AP English exam is vital. That is why we strongly recommend you to pay close attention to the formatting you use in the AP language and composition synthesis essay.
The only way to ensure you are referencing correctly is by having the reference guide open as you edit.
If you need assistance with proper MLA and APA formatting at an AP English exam synthesis essay, you can check out our complete guides. They will provide you with comprehensive data on the synthesis essay format for AP English exam.
While still on the subject, you might want to check out our guide on how to write a rhetorical analysis essay, since it is a part of an AP English exam. We have all the answers for you here!
By now you are probably wondering what topics you can opt for when crafting a piece in question. We have prepared a list of themes to take a look at to help you out. So, read on!
Interesting Synthesis Essay Topics
When you choose synthesis essay topics, you should think of subjects that have debates around them. Pick issues with grey areas around them or the ones you can form a unique view or opinion on.
Here are a few synthesis essay topic ideas:
Do video games lead to an increased violent behavior level among teens?
Rehabilitation or capital punishment: Which is the most effective way to deter crime?
How did the Treaty of Versailles contribute to the WW2?
Social Learning Theory or Biology: Which has the most significant impact on crime?
Does the UFO exist?
Do people cause the climate change?
Should abortions be made legal?
How social media impact our day-to-day lives?
Is euthanasia a murder or an act of mercy?
Is sex education at schools really necessary?
Choose one of our topics for a synthesis essay – and you'll definitely end up having a great piece with lots of sources to refer to and credible authors to cite.
Now, let's polish your writing skills and see how general writing differs from the synthesis essay writing in the long run.
Tips on Writing the AP Synthesis Essay
Here are a few tips on how to write the AP lang. synthesis essay with flying colors:
Keep a consistent tone and voice throughout the essay.
Craft good strong argument and specify what your position regarding it is.
Use some of the rhetorical techniques to craft a more compelling evidence (for more on rhetorical essay writing and preparation to the AP English exam or the synthesis essay ap lang. check our guides here).
Know the style and purpose of the essay you are writing.
Always have a clear synthesis essay thesis statement to help you write with purpose.
Bear in mind the importance of the proper APA or MLA writing guides, and always edit with a reference guide in front of you for better results on your AP English synthesis essay.
Analyze the existing sources to find common insightful traits between them.
Develop a thesis statement for the essay to guide your outline.
Map your main points visually. Do these main points have science-backed evidence to support them? Do they contradict each other? Or does one point support your thesis, the other one debunks your theory while the third one contradicts everything mentioned above? Be consistent in your writing and mapping the ideas.
These tips will help you better craft your synthesis essay. And if you're still having hard times and struggling with the main points of the paper, remember that HandmadeWriting is the best place to ask for help with your synthesis essay! Our professional essay writers are available 24/7. And don't forget to use our synthesis essay prompts to ease your writing.
23 November, 2022
27 minutes read
Guides
Best Essay Writing Services 2023
Student life can often be quite challenging because students have to deal with challenging college essay writing assignments. To facilitate the learning process, many services help you complete written work and get high scores. Now we will tell you about the best services that you can turn to and get high-quality papers. Essay Writing Service […]
Read more...