Guides
19 June, 2020
14 minutes read
How to Write a Precis Step by Step?
Have difficulties writing a precis while submission deadline is approaching? Chill out and exhale - we know how to make your essay an eye-candy. William Shakespeare once wrote: "Brevity is the Soul of Wit". While we all know this phrase, not everyone knows how to use the skill of conciseness in their writing. If you're one of those who got into this trouble, there's a way out. In this article, we'll speak about the nature of precis essay, discuss its peculiarities, and learn how to compose a readable piece which everyone will adore.
Have difficulties writing a precis while submission deadline is approaching? Chill out and exhale - we know how to make your essay an eye-candy. William Shakespeare once wrote: "Brevity is the Soul of Wit". While we all know this phrase, not everyone knows how to use the skill of conciseness in their writing. If you're one of those who got into this trouble, there's a way out. In this article, we'll speak about the nature of precis essay, discuss its peculiarities, and learn how to compose a readable piece which everyone will adore.
What is a precis?
Precis comes from a French word "précis", and is literally translated "as precise, clear, up to the point". The precis meaning pertains to a summary of any writing piece, be it a book, an article, or a novel. What is typical for this unusual type of assignment is the outline of the main points and arguments presented in the given text. Any deep or critical analysis should not be provided in precis, but it should nevertheless objectively explain the situation narrated in this or that literary piece.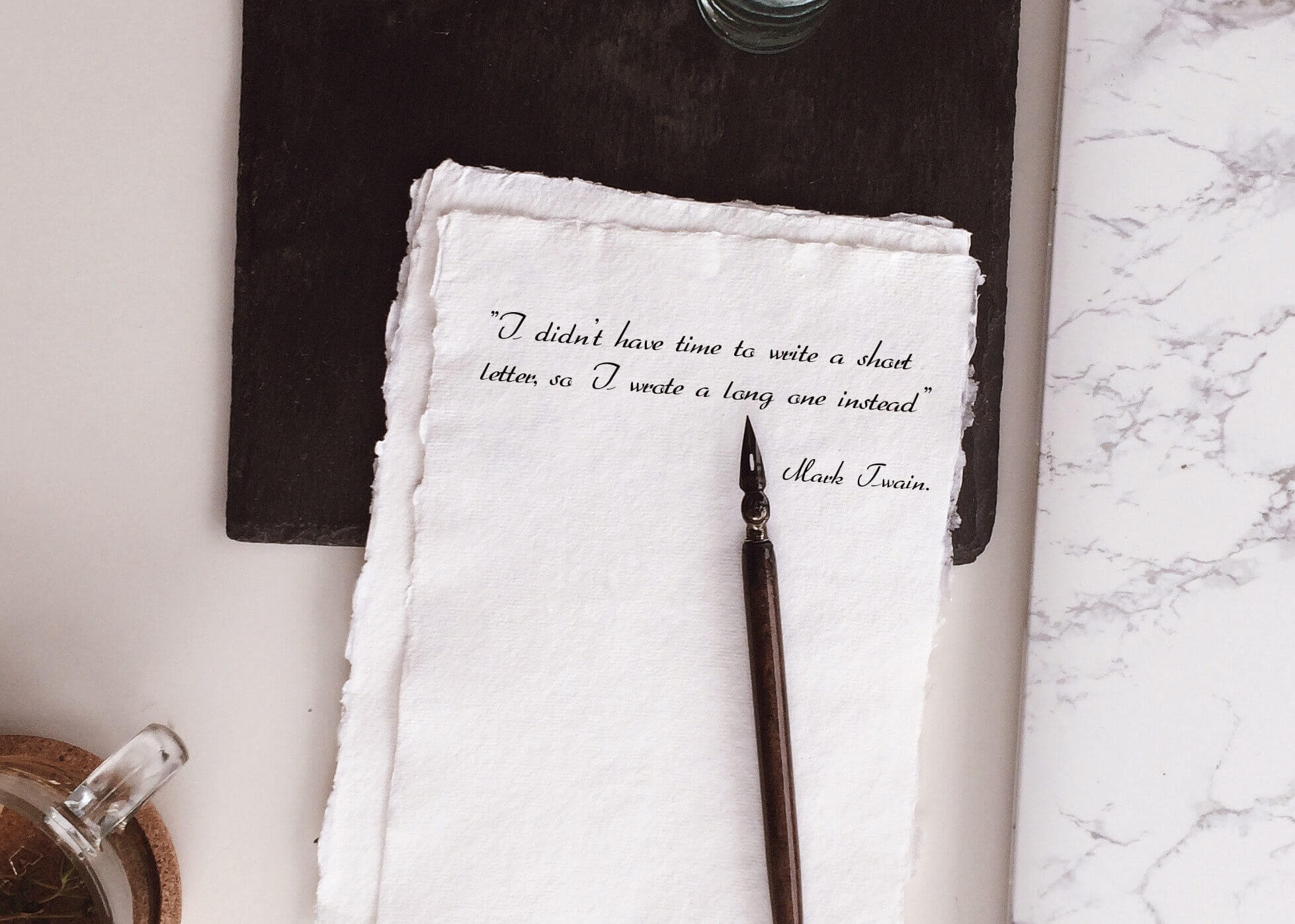 Mark Twain once said: "I didn't have time to write a short letter, so I wrote a long one instead". His claim hit the very essence of precis writing. For while it might seem easy to compose a short paper dedicated to the crystallization of story events, this is not the case with precis. It should be short, but at the same time, it might not be so easy and quick to write. Considering that precis is a type of summary, it should naturally be devoid of re-writing of the original text. Therefore, precis writing always involves critical reading and research.
Summary vs. Precis
We've already mentioned before that precis is basically a text summary. But in fact, there's a fine line between the two terms. A summary is a brief statement that succinctly covers the main points of a given text. Whereas precis should have a title and be 1/3 of the total words in the original passage. Also, summary broadly discusses the main events in general, while precis focuses on every detail and deeply analyzes a particular situation. Let's take an example to dispel your confusion on this matter. Imagine you've recently got a task to analyze the 2nd scene of the 1st act of Shakespeare's play 'Macbeth'. Which category would you classify this assignment to – summary or precis? You got it right if you chose the latter variant. This way, a precis can be defined as a brief form of an essay or a chapter in a book or an act in a play.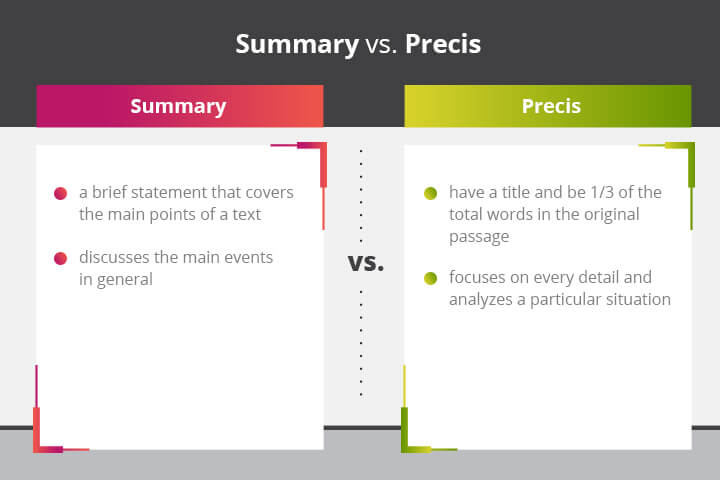 Precis Outline
The outline is one of the essential parts of precis writing. It allows to properly structure and organize the flow of ideas and helps to sequentially point out the main arguments of your precis. Before you start writing the outline, it's important to boil down the list of possible topics to the main one. Then, you'll need to decide on the purpose of your outline, which depends on the topic you chose to write about. For example, the outline can be written to entertain, reflect, or inform readers on this or that theme.
Another crucial step on the way to writing a perfect outline pertains to research. Read the material thoroughly, gather necessary information like quotes or facts. Then take notes, and assemble all the pieces together to start crafting an outline, taking some information here and there.
Once you're done with this task, move down to brainstorming. This powerful practice of generating ideas might help you fix that genius thought that's just spring to your mind. You can note down your brainstorm results in the form of random scribbles or create a mind map to build associations with the ideas. And in case some points don't fit into your precis outline, you can always erase or cross them out. The next block of an outline is dedicated to thought arrangement. If you wonder how to structure an essay, remember to always formulate the information that'll be included in the introduction, as well as in body paragraphs, and conclusion.
At the stage of finalizing, don't forget to read your precis outline again and fill in the missing points if necessary. Also, proofread the outline before writing ideas on the assignment itself. That is, check it for typos, grammatical and spelling mistakes, and formatting errors.
How to start a precis?
For some, the phase of preparation for a precis is much harder than the process of writing it. Many questions are coming to mind at this point, like "Where do I start from?", "What shall I do in the first place?", "How much time do I need to prepare my precis?". The formula to effective set-up is a proper study of the given text. At first, you'll need to read the material. And not only do a skim-through but also make sure that you fully grasp the idea which the author conveys in the reading. For this, you'll probably need to read the text several times. If this is a novel, you can read it twice, if it's a short story – 3-5 times will be enough. Also, you can write down the meaning of unknown words if there are any.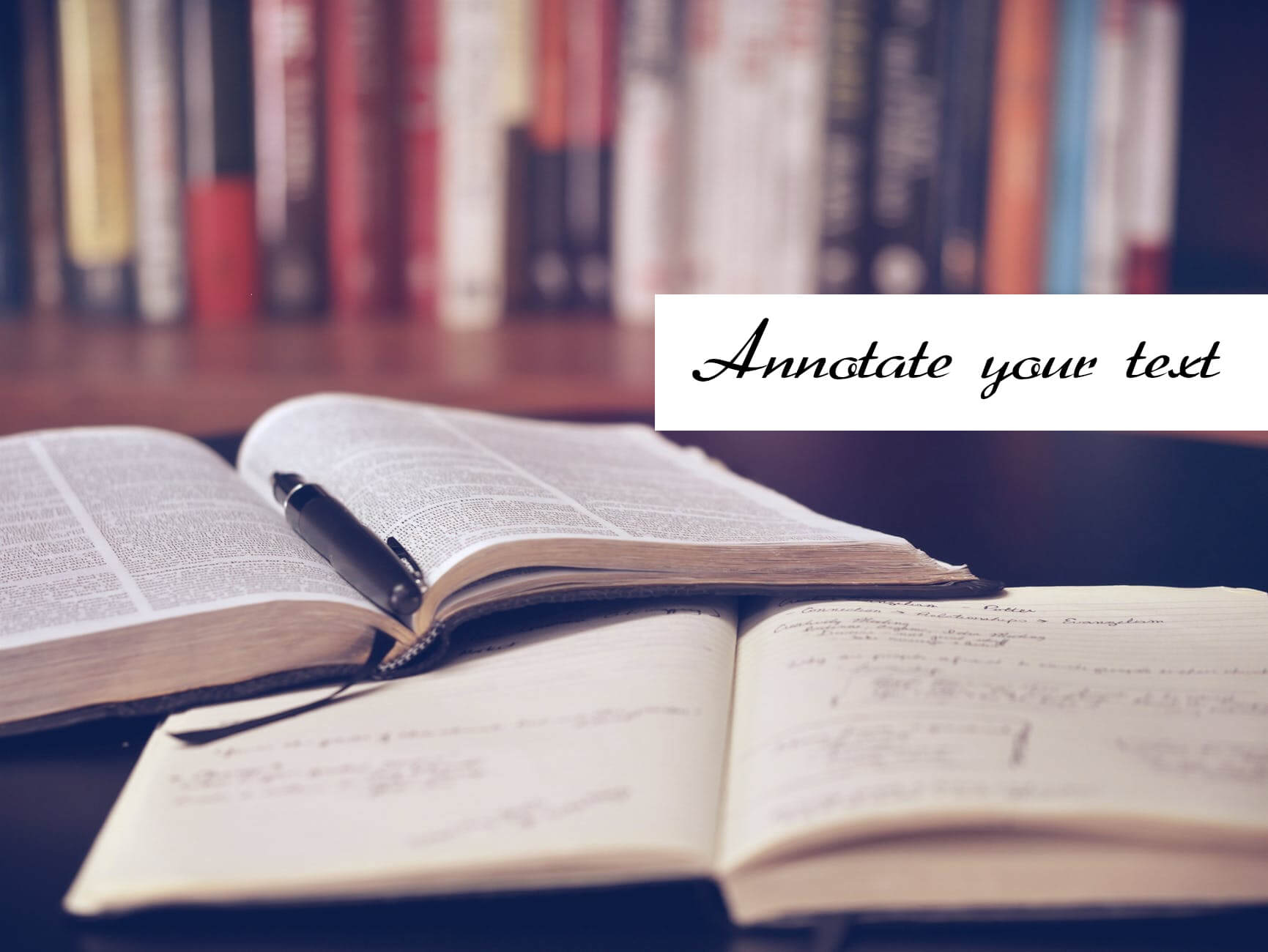 While you're reading, don't forget to annotate your text. This process stands for underlining and highlighting focal information while making notes for yourself. Annotation comes at handy during the creation of précis, since it helps to latch onto the important text points and get familiarized with the material much faster.
How to write a precis paragraph?
Precis normally encompasses such information as author, article/book title, date of publishing, and topic in the very first sentence. Such a lead-in will briefly state what the book or novel's idea is about. The second sentence should concentrate on the evidence that articulates the author's method of telling their narrative. Here, you might want to dwell on several arguments, comparing and contrasting them, to illustrate the author's point. In the third sentence, you'll need to explain the purpose of the text. No need to invent another aim than the one you deem important: define the text's meaning just the way you think, feel, or believe.  
The main body usually expands the supporting arguments to explain the author's evidence, purpose, and ideas. It often takes a short paragraph to write the main body. The conclusion part encapsulates the main author's idea of a book in 2-3 sentences. There, you'll need to restate the thesis statement and write a concise summary explaining the author's type of evidence.
Precis Format    
To wrap up the information mentioned above, let's schematically define the typical format of a nicely-written precis.  
In the introductory sentence:
Indicate the author's name, article/book title, date of publishing in parenthesis, and topic you want to discuss.
A rhetorical verb outlining the author's primary purpose (e.g., "assert," "argue," "deny," "refute," "prove," disprove," "explain")
A that clause which includes the thesis statement of the book or novel
In the main body:
Write a sentence that provides clarification of how the author formulates and further explains the main point of the reading
Write a sentence wherein include a statement that reflects the author's purpose. Use the "in order" phrase to develop this sentence.
Write a sentence with a description of the presumed audience and the depiction of connection which the author establishes with readers.
In the conclusion:
Present a finishing remark of 2-3 sentences to shed light on the author's intended idea for the book or article
Give a 1-sentence restatement of the major claim which the author used to develop their evidence in the reading.
What are the four steps of precis?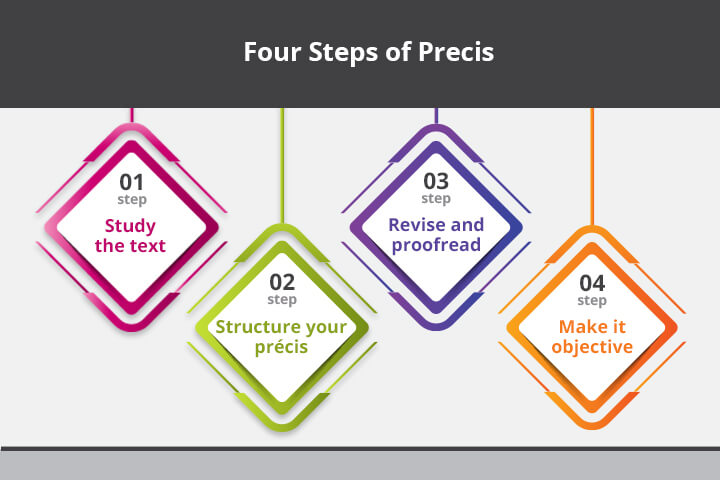 Writing precis is an art in itself, which, as you can see, takes a healthy dose of time and effort.
Apart from that, there is a couple of steps and requirements you should comply with to create an A+ precis. So to make it easier for you not to get lost in a bunch of lengthy processes, let's break them down for convenient and effortless navigation.
The first step of precis lies in studying the text. The second one – in structuring your précis. The third phase is dedicated to revision and proofreading. As for the fourth step, we'd like to share the best practices for writing a worthy precis to guide you in the right direction. First, always strive to consult with your instructor regarding the formatting requirements. These might be specific for a specific precis. Therefore, the format can depend greatly on the text lengths. For example, a precis for a short article will, as a rule, be 100-200 words long. Whereas long books require a precis that can expand to several pages.
Another proven practice of proper precis writing has to do with the style of composing it. The most typical mistake the majority makes is the incorrect tense usage. Specifically, past tense is not a rare occasion when it comes to writing a precis. However, it's important to stick to the present tense so that the instructor could follow your text smoothly. Also, remember to ascribe your evidence to the author rather than to the book or article. For instance, write "Brown argues," instead of "the book argues."
Besides, you should avoid personal opinions of any kind, since they might distort your precis with excessive subjectivity. The very purpose of precis is to stay objective, so avoid making claims from your own perspective if you want to get positive comments from the instructor. Because ultimately, the approach of expressing personal thoughts might result in a lower grade for your precis.
How long should a precis be?
There's no universal rule for a precis length, because it can vary significantly depending on the assignment. For example, your precis can range from 100-200 words when the given reading is an article to 2-3 pages if the assigned material is a big book. Whatever the length for your precis, it's essential to take into account that it should be one-fifth to one-sixth of the original reading's length. At any rate, you should ask your professor to give you length specifications, and only then start writing a precis.
How to Make Precis Writing Perfect?
A precis is a great way to show your writing skills to instructors and demonstrate the ability to think critically and logically. Besides, working on such task will allow you to develop a new skill of writing short summaries with accurate data and text details. Hence, the secret weapon of any successful precis is about following the qualities needed to make your precis unforgettable. Wonder which these are? They include clarity, correctness, objectivity, coherence, and conciseness. While all these attributes of a perfect precis exist in isolation, they are closely interconnected and aimed at helping you solve possible difficulties with regard to precis writing.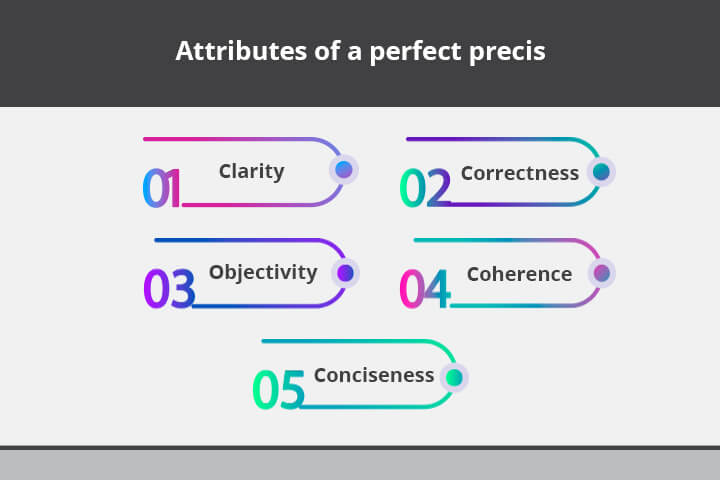 If your precis is clear, it means that your reader can fully comprehend the idea, meaning, and purpose of the author's work. If your precis is correct, it means that it is devoid of spelling, grammar, and punctuation mistakes and is easy to digest. Also, it means that you've used all the facts, figures, and dates in a way proper to precis writing.
Objectivity here stands for the neutral voice of book or article summary, in which any opinion from the first person is omitted. Coherent precis pertains to the consequent interrelation of the main text's ideas. This point is important because your readers will want to see the logical flow of concepts and notions without losing their interest while reading your precis. Finally, conciseness denotes the ability to state the ideas clearly while avoiding useless details in your precis. Of course, you should never abstain from facts, but keep yourself away from lengthy and vague expressions, repetitions, and generally-known expressions.
Long story short, writing a precis is quite a challenging task that involves different stages and requirements. It might seem easy in theory, but as you write, you'll notice how complicated and time-consuming this process actually is. However, with the right level of preparation and enough knowledge of how to accurately organize the text, your precis will become a writing piece that your professor will definitely remember. So the next time you'll experience hardships writing your own precis, follow our guide and learn how to compose a high-rated work which both your instructor and parents will compliment you for.
Feel free to buy essay online with our top-level essay writers.
23 November, 2022
27 minutes read
Guides
Best Essay Writing Services 2023
Student life can often be quite challenging because students have to deal with challenging college essay writing assignments. To facilitate the learning process, many services help you complete written work and get high scores. Now we will tell you about the best services that you can turn to and get high-quality papers. Essay Writing Service […]
Read more...