Guides
26 September, 2020
15 minutes read
50 Interesting Informative Speech Topics for College
Informative speeches grant speakers a responsible mission of educating people about significant ideas and themes. They're also about sharing thoughts and opinions on this or that topic, aimed at expanding understanding and providing listeners with relevant insights for further deliberation. Therefore, it's a particular type of speeches given to put things into sharp focus and offer food for thought. Read up to know which informative speech topics have the most impact.
Informative speeches grant speakers a responsible mission of educating people about significant ideas and themes. They're also about sharing thoughts and opinions on this or that topic, aimed at expanding understanding and providing listeners with relevant insights for further deliberation. Therefore, it's a particular type of speeches given to put things into sharp focus and offer food for thought. Read up to know which informative speech topics have the most impact.
What is an informative speech?
As mentioned above, it's a kind of speech that, well, informs the audience about your topic. Sounds simple enough, but simplicity is deceptive, and there are enough secrets behind this science. Specifically, not all people are fully aware of the fact that the "what" question is a key element that needs to be answered, for with informative speeches, you want to choose a topic most likely to be well received.
Of course, you can speak about something you already know, but you can also talk about the topic which is absolutely new to you. In this case, however, you must make sure that the theme will be relatively easy to research and studied before speech delivery. Another important point worth noticing is that organizational requirements and type of information for informative speech usually intertwines with those for an informative essay, for the latter is often an extension of the first.
How to write an informative speech?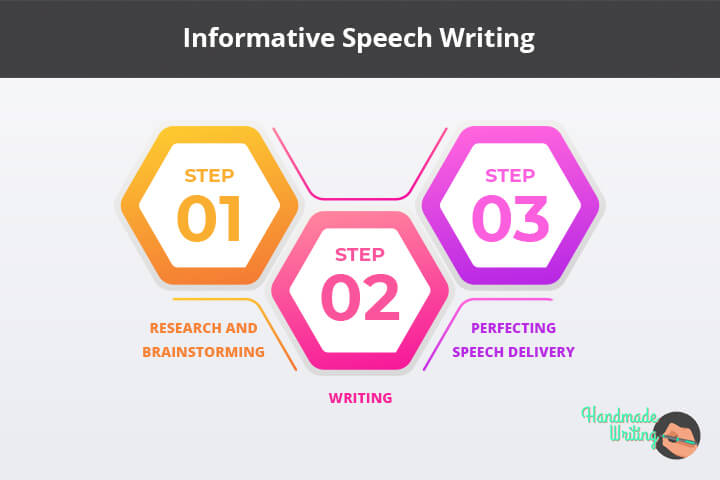 So, now it's time to move from theory to practice and write an informative speech. But where do you start from?
Although there are many different processes involved in the process, we'll narrow them to essentials to help you better grasp the idea of how a perfect speech should be tailored.
Stage 1. Research and Brainstorming
Think About the Topic

The first and most crucial step is about choosing the right topic. We've mentioned before that it's vital to select the issue you feel free to talk about. However, there are also cases when professors assign a specific task for you. Either way, the point here is to conduct thorough research based on the given or chosen topic.

If you want to explain the history of some company, band or event, for example, make sure to deliver the message clearly, without going here and there. For this, consider talking about particular points which will cover the whole speech and help the audience quickly digest it. Otherwise, your speech will depart from the topic, and listeners will find it challenging to follow your thoughts.

Gather Evidence

Every scholarly work proves its credibility by the inclusion of relevant sources to show both the audience and the instructor that you've put enough effort into the work to sound authoritative. This is a great chance to get a good mark, but more importantly, earn trust from listeners. To cite the evidence correctly, you can search for some facts, stats, or numbers in a variety of sources. These include textbooks, books, and encyclopedias (online ones work as well), scholarly articles, reputable news bureaus, and government documents. If these are hard to find for you, think of alternatives, like online journals and magazines. But be careful and don't use sources from there if they are not credible and reputable. As an example, use The New York Times, The Guardian, Harvard Business Review, SAJE journals, Forbes, etc.

Also, keep in mind that the evidence you'll use should depend on the subject of your talk. If it's about science, check scientific publications. If it's about medicine – embark upon texts on this specific sphere. Finally, don't forget to create a works cited page at the end of your speech and put all your sources there. Even if your instructor does not specify such a requirement, create a list anyways. This will help you keep references organized, and you will be able to pick a suitable one from the list.

Generate a Nice Thesis

A thesis is the core of impactful speech that tells listeners about its focal points. It also reveals the purpose of your speech and provides the audience with an insight into what the speech is all about. Notably, your thesis should not exceed the length of one-two sentences and be as precise as possible. More so, thesis, like the speech itself, is not about convincing people to take your topic stance immediately. Rather, it's about informing listeners about significant events or cases which they could analyze and make relevant conclusions themselves. No need to push them or force to change the perspective, just try to be genuine and honest with people you're talking to. Considering that it's a scholarly piece of work, there's no room for appealing to emotions or subjective claims. So in informative speeches, objectivity is the key player.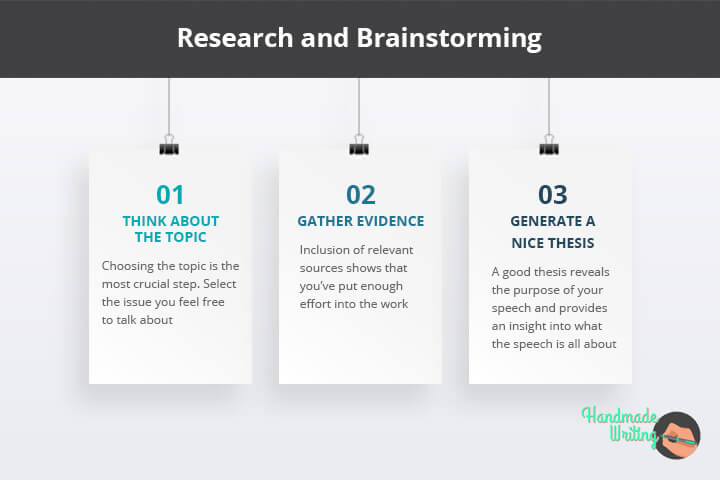 Informative speech outline
The outline is a skeleton of your speech that briefly explains each of your points. This is basically a list of short sentences which reveal the meaning of your main speech ideas. Remember that this list is not for the audience; it's for your own use. So the task here is to write about every point in a way you'll understand. You can also use notecards instead of paper so that it'll be much easier for you not to get lost in a sea of ideas and organize the speech properly. Tip: include numbers and capital letters for headings, and bullet points or other figures to mark subheadings.
If you are still unsure on whether you can cope with your task – you are in the right place to get help. Our essay writers will easily answer the to the question "Who can write my speech?"
Stage 2. Writing
Once the sketches are ready and you have a clear understanding of what to speak about, move on straight to writing.
Craft an Engaging Intro

What does engaging stand for in this case? It denotes some speech elements which will be enticing for listeners from the first sentence. It's a common practice to start speeches with different hooks to call for more people's attention. There are a plethora of techniques you can use to make an unforgettable first impression: jokes, anecdotes, examples from personal life, interesting statistics, rhetorical questions, quotes of famous people. You can even invent your own attention-grabber which will help you knock down listeners.

Give More Detail in the Main Body

Once you managed to create impact by the introduction and made sure everyone will be eager to listen to you further, you need to expand the explanation of key speech ideas in a well-structured, organized manner. Like in regular life, you start a story from the beginning to the end, while gradually moving from one idea to another. The same goes for informative speech – you need to ensure that the flow of your narration is logical and concise, fully elaborated, and precise. Also, don't forget about making transitions between sentences. They will make your speech flow naturally, helping the audience to process the information much easier and effortlessly.

Wrap Everything Up in Conclusion

The ending of your informative speech should restate the main idea and the thesis you've mentioned in the introduction. There's no need to say new things that will only confuse your audience. Instead, all the conclusion needs is a nice wrapping of the already stated claims.

So basically you want to review your main points and thereby deliver listeners a message which they will perceive as a major takeaway from what you've just told them. However, the introductory part should by no means repeat previous information word by word. It's just a short restatement that covers up the main points.

Proofread and Edit the Final Version

Once the text is written entirely, it's a must for you to double check it to avoid possible mistakes. If your informative speech turns out not as informative as expected due to grammatical or lexical errors, you'll not be taken seriously, which we bet is not the purpose of delivering your talk. So, to prevent casualties from happening, you'll need to use reliable editing and proofreading tools. Grammarly is an excellent source for this. Its accurate algorithm detects all kinds of mistakes and fixes them on the fly in a matter of seconds. And you can also check the text for plagiarism to make sure that it has no analogs anywhere on the web.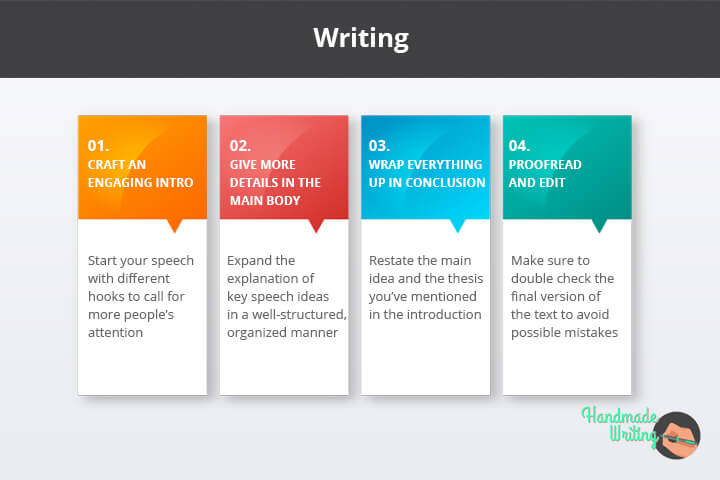 Stage 3. Perfecting Speech Delivery
Memorize Your Speech

Half work is done – you have a writing piece. Now it's time to learn it. Of course, it'll take you time to do this, but with a little patience and enough time, you can memorize it even faster than expected. Besides, it's not recommended to learn the speech from A to Z, inside out and upside down by heart. If your instructor is indulgent enough, feel free to memorize your talk in a way that allows you to explain your ideas clearly and consistently. To facilitate the process of learning, you can memorize sentence by sentence until you're confident. And even if you forget something during delivery, you can always count on the outline that'll give you a hint on what to talk about next.

Practice Reading Speech Aloud

When the final product is finally ready and polished, you need to concentrate on reading it.

Practice the speech in a mirror, to a friend/relative/pet, or record yourself to trace the tone and intonation. This way, you'll make sure that your informative speech is brilliant and you deliver it just the way you wanted. Besides, this practice can help you critically evaluate the flaws and correct them before the actual delivery. Have enough time for this, because even experienced speakers always rehearse their speeches. Finally, focus on the way you use gestures, the way you stand and look at the audience, and facial expressions.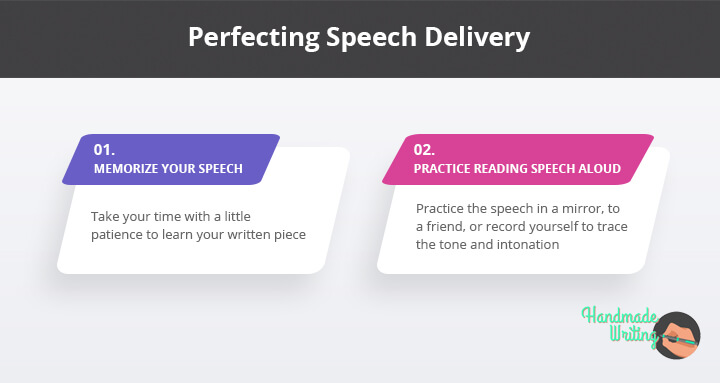 List of informative speech topics
There are lots of easy informative speech topics to choose from, but we offer you to review our topics list with some of the most alluring ones to get you started. Let's examine pro informative topics that'll help you write a memorable speech.
Topics for informative speech about music
Frank Sinatra – a beloved father of music
The drastic evolution of french music
Deep house – the most popular music style among youngsters
Why did rock and roll became an epitome of popular dance music
Why does reggae music most known under the name of Bob Marley
The psychological and physical benefits of listening to music
Chill, lounge and electronica has market the era of progressive sound
The impact of rap music on society at large
The art of playing the violin
The evolution of jazz music and its connection to historical movements
Informative speech topics about animals
Why are so many animals under extinction today and how do we fix it?
Why dogs are considered as humans best friend?
The history and evolution of polar bears
Why does rhinos horn trimming in South Africa still allowed
How to properly raise chinchillas
The most dangerous types of dogs on the planet
Staggering intellectual abilities of elephants baffle even scientists
How to keep snakes away and save your life
Different types of butterflies
The history of bees and their role in the world
Topics for informative speech about global warming
Patterns in climate change: rising temperatures and flooding
What Effects does Climate Change have on the Earth and its Inhabitants?
What are the practical solutions to global warming
What is global warming and what causes it?
The future of global warming: dismal predictions and statistics
Controversial opinions about global warming
The greenhouse effect as the top one reason of climate change
The global issue of global warming: what's next?
Humans are responsible for the emergence and progress of global warming
Sanctions against generation of greenhouses: will they ever take place?
Informative speech ideas about sports
How sports improve human physical and psychological health
Is golf the game of the past?
The real life of sport teams: from trainings to furious games
Can roller skating be considered a kind of sport?
What's more dangerous: white water rafting or ice diving?
The history of sports: whom do we owe respect?
Hockey 101: gear, playing techniques, team spirit
Why is boxing the most dangerous type of sports
The most unusual kinds of sports humans have invented
The importance and potential threat of football for the world 
Interesting speech topics about food and drinks
How to bake a cake and not put on weight
Why does alcohol bring so much trouble to contemporary youth?
There are no superfoods, the study shows
Does fast food really cause addiction?
The secret ingredient of Coca Cola and why you'll never want to drink it again
If the fruit diet useful for health?
Why bananas can save the world
Eating vegetables and olive oil is a golden ticket to rejuvenation
What's the difference between natural and processed foods?
Why eating pizza is the worst way to get away with cooking
As you can see from the list of topics for speeches, informative speech is a perfect occasion to explore interesting themes in depth and share your knowledge with people who are most likely to learn new things with you. Discovering a variety of topics and writing them on paper is perhaps the most engaging task your instructor has ever assigned you. And if you find it challenging to come with the right idea for a good topic, just send a "write my speech" request, and we'll complete your order in no time.
23 November, 2022
27 minutes read
Guides
Best Essay Writing Services 2023
Student life can often be quite challenging because students have to deal with challenging college essay writing assignments. To facilitate the learning process, many services help you complete written work and get high scores. Now we will tell you about the best services that you can turn to and get high-quality papers. Essay Writing Service […]
Read more...