Guides
09 May, 2020
15 minutes read
How to Write an Informative Essay?
The bad news is that if you're anything like the majority of students, you're overwhelmed with all kinds of essays your teachers ask you to create. It feels as if they multiply day on day. However, the good news is that here, at HandMade Writing blog, you can find all the answers on how to craft a decent informative essay in no time. So, without further ado, let's dive into the essence of the issue together!
The bad news is that if you're anything like the majority of students, you're overwhelmed with all kinds of essays your teachers ask you to create. It feels as if they multiply day on day. However, the good news is that here, at HandMade Writing blog, you can find all the answers on how to craft a decent informative essay in no time. So, without further ado, let's dive into the essence of the issue together!
What is an Informative Essay?
An informative essay is a piece of writing that seeks to inform or explain a subject or topic to educate the reader. When writing an informative essay consider the audience and correspond to their level. Do not over-explain to experts where knowledge can be assumed or under-explain to novices that lack basic understating.
There are in four main categories:
To define a term
To compare and contrast a subject
To analyze data
To provide a how-to guide on a subject
An informative paper should be written in an objective tone and avoid the use of the first person.
You may order an informative essay written from scratch at our professional essay writing service – our essay writers are available 24/7.
What is the Purpose of an Informative Essay?
The purpose of an informative essay is to educate the reader by giving them in-depth information and a clear explanation of a subject.  Informative writing should bombard the reader with information and facts that surround an issue. If your reader comes away feeling educated and full of facts about a subject than you have succeeded.
Examples of informative writing are pamphlets, leaflets, brochures, and textbooks. Primarily texts that are used to inform in a neutral manner.
What is the Difference Between an Informative Essay and Expository Essay?
An expository essay and an informative essay are incredibly similar and often confused. A lot of writers class them as the same type of essay. The difference between them is often hazy and contradictory depending on the author's definition.
In both essays, your purpose is to explain and educate. An expository essay is here to define a single side of an argument or the issue. It's the first step to writing an argumentative essay through taking the argument on the next level. Informative essays are less complicated. They are just about the information. Such essays generally require less research on a topic, but it all depends on the assignment level and subject. The difference between the two essay types is so subtle that they are almost interchangeable.
How to Plan an Informative Essay Outline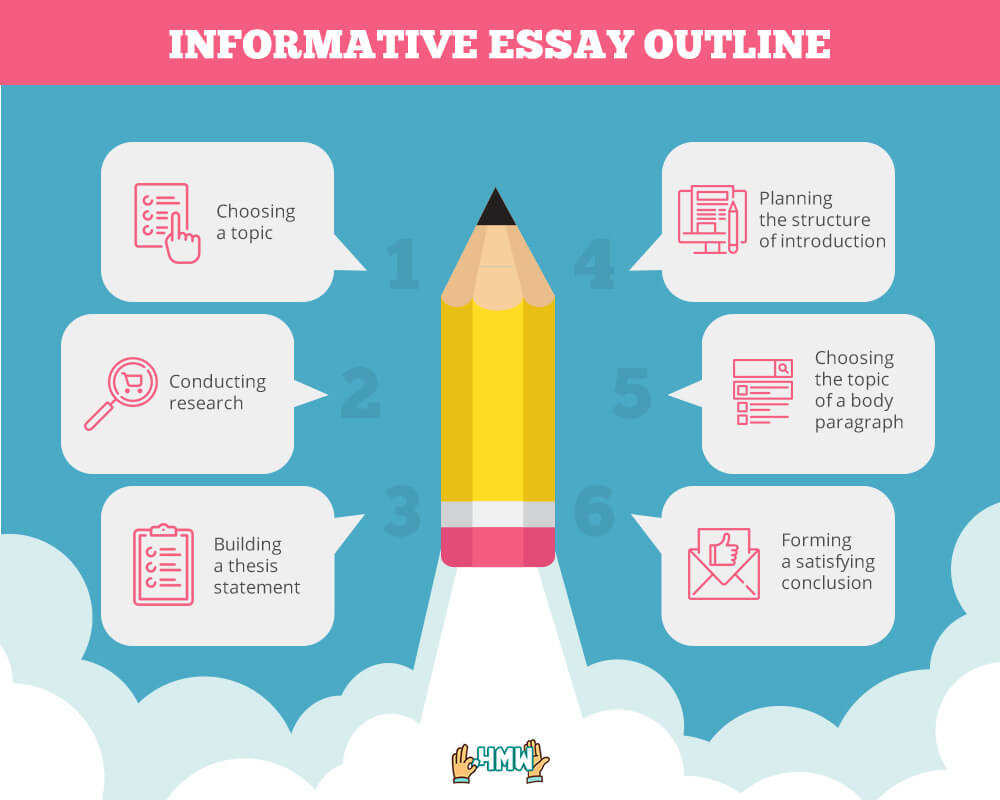 Your plan for an informative essay outline should include:
Choosing a topic
Conducting research
Building a thesis statement
Planning the structure of introduction
Choosing the topic of a body paragraph
Forming a satisfying conclusion
By following the list above, you will have a great outline for your informational writing.
Related Post: How to write an Essay outline 
How to Choose an Informative Essay Topic
One of the most difficult tasks when writing is coming up with a topic. Here is some general advice when you are choosing a topic for your essay:
Choose a topic that you are interested in. Your interest in writing on the subject will make the essay more engaging.
Choose a theme that you know a little about. This way you will be able to find sources and fact easier.
Choose a topic that can explain something new or in a different way.
Choose a topic that you can support with facts, statistics, and
Choose a topic that is relevant to the subject.
Remember the four types of categories information essays cover.
Inspiration and Research for Your Ultimate Topic
Your perfect informative essay title can come from numerous sources. Here is where you can potentially seek for relevant topics: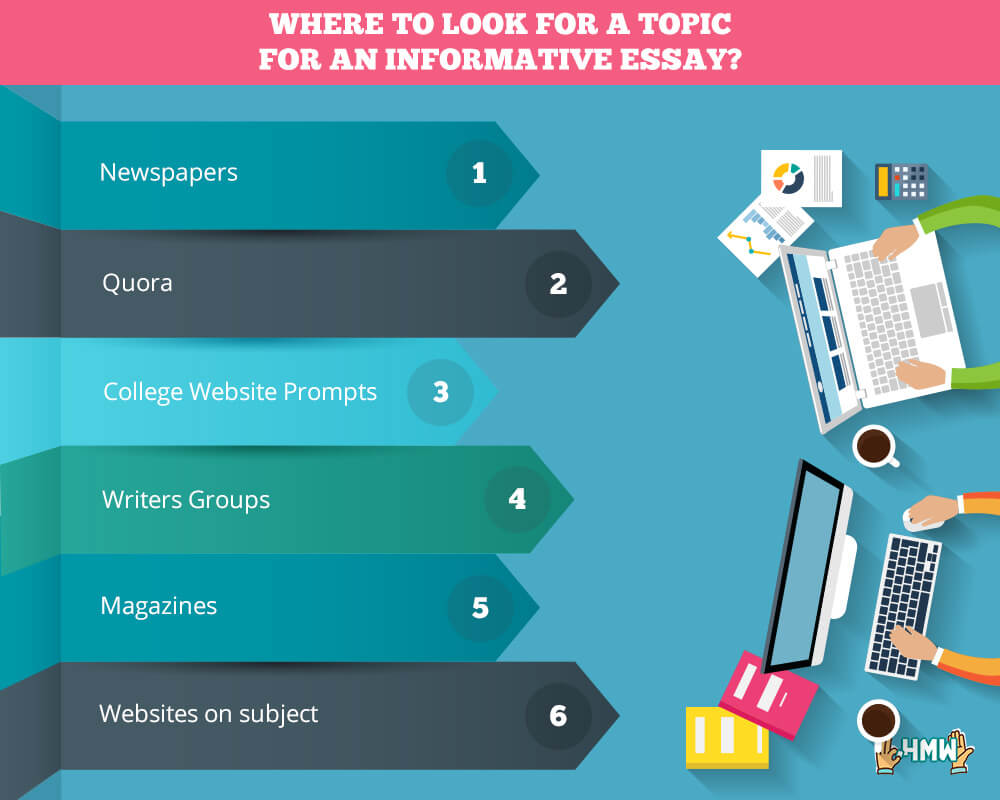 Not only will they inspire you, but they will also provide with some of the research you need.
Researching an Informative Essay
The best sources should be objective. Some excellent sources for an informative essay include: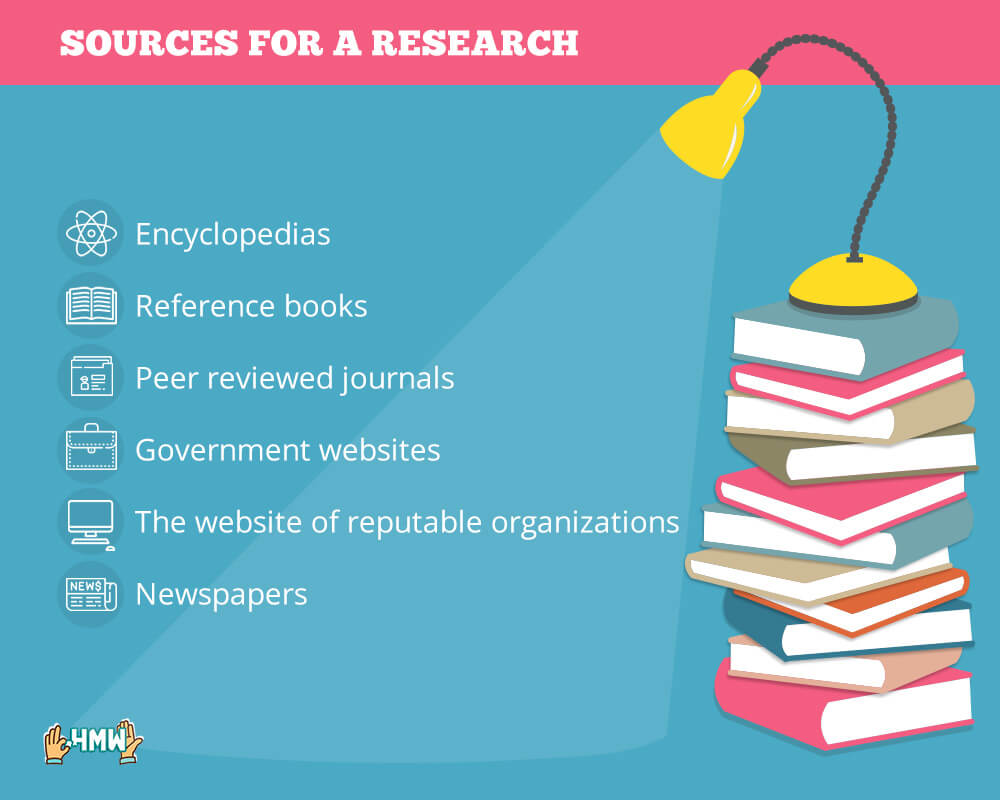 Always remember to check if the source of information will have a bias. For example, a newspaper journalist may have a political leaning, and their article might reflect that. A charities site for motor neuron disease may also come as biased. Analyze the source for the writer's agenda.
Informational research should answer the five W's (who, what, where, why and how), and these will form the majority of your essay's plan. So, if I were writing about the different types of pollution I'd research what kinds of pollution there are, who and how they affect, why they happen, and where they are most likely to occur.
Collating and organizing this information will form your thesis statement and paragraph layout.
Still struggling to find a topic for your informational writing? Then, here are some ideas to that might inspire you.
Examples of Informative Essay Topics for College Students
How to avoid stress
What ecological problems are we faced with today?
What are the effects of obesity?
What is cyberbullying?
How has the internet changed the world?
How to adjust to college life
Where to find the best part-time jobs
How to get along with your room-mate
Guidance on how to write a college application
How caffeine affects studying
Examples of Informative Essay Topics for High School
How to start your own vegetable garden
The reason for and effects of childhood obesity
Outline the consequences of texting and driving
How to make your favorite food
What is climate change? And what are its effects?
The different types of pollution
The history of the Titanic.
An essay on the Great Depression
The life and times of Ernst Hemmingway
How to have a great vacation
Related Posts: Argumentative essay topics | Research paper topics
Informative Essay Example
Informative essay

How to Write an Informative Essay?
When you have finished planning and research, you have to start writing. But, how do you start an informative essay? The simple answer is to just go with it. Do not get overly critical. Just pour out all the information you have. You can shape it up later.
Important points to consider are: never use first person pronouns and keep the topic objective not subjective. Remember, your purpose is to educate the reader in the most thorough way possible by explaining a topic with statistics and facts.
As usual, the essay should include an introduction, main body, and conclusion. All information should be presented in a clear and easy to understand manner. The flow of information should be signposted. We will delve into these areas in more detail now.
Related Post: How to Write a Narrative essay
How to Write an Introduction for an Informative Essay?
An introductory paragraph of an informative essay should comprise of the following things:

A Hook to Ensnare the Reader
An introductory paragraph for informative writing should start with a hook. A hook needs to be in the first sentence and something that will 'wow' the reader and impel them to read on. Alarming statistics on the subject/topic make up great hooks for informative essays. For example, if you were writing an essay on cyber-bullying, citing the number of children who have considered suicide due to cyberbullying could be a powerful opening message.
A Thesis Statements for Direction
All introductions should include a thesis statement. The best practice is to place it at the end of the introductory paragraph to summarize your argument.  However, you do not want to form an argument or state a position. It is best to use the thesis statement to clarify what subject you are discussing.
Related Post: What is a thesis statement
It may also be better to place the statement after the hook, as it will clarify the issue that you are discussing.
For example, 'Research conducted by Bob the Scientist indicates that the majority of issues caused by cyberbullying can be overcome through the informative literature on the subject to educate bullies about the consequences of their actions.'
Three Connecting Sentences
The thesis statement should be followed by three sentences that connect and expand on the statistic and topic. When writing these three sentences think about the five W's. So, in the cyberbullying example provided above, the three sentences could expand the issues into what cyberbullying is and whom it affects, why Bob the Scientist believes the informative literature can help, and the effects that informative programs have had on cyberbullies. That gives you three topics you can expand into body paragraphs.
Сheck our complete guide on Essay introduction.
How to Write the Body of an Informative Essay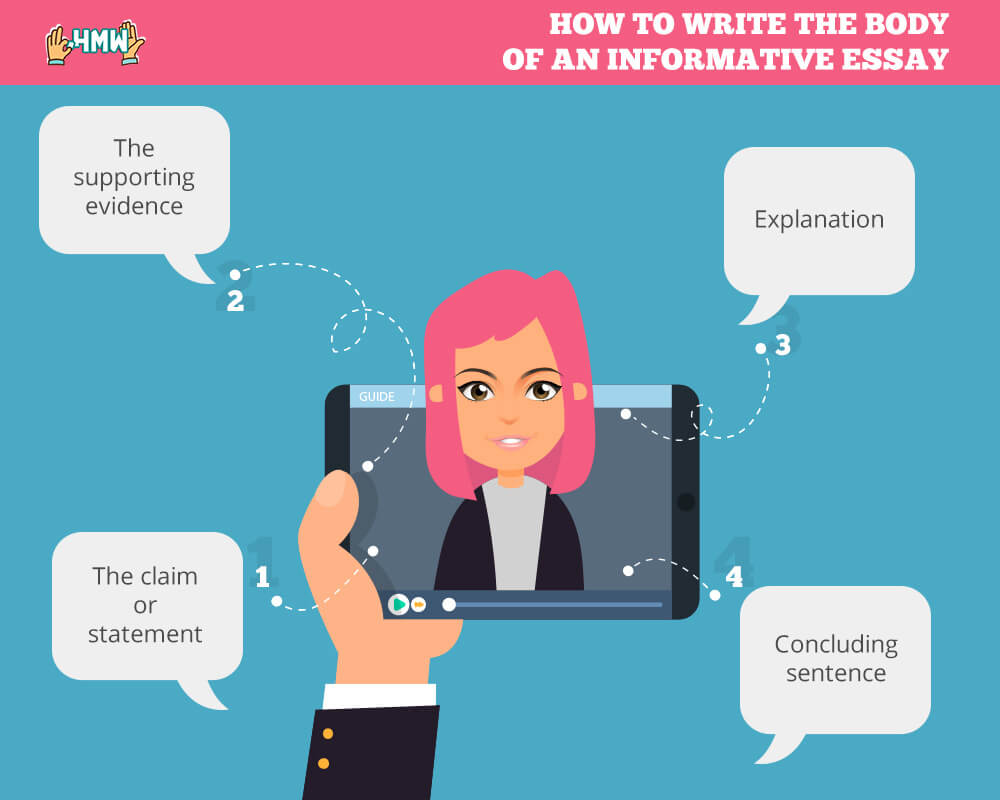 When writing the body of an informative paper, it is best to break the paragraph down into four distinct steps.
 The Claim or Statement
The claim or statement is a single, simple sentence that introduces the main topic of the paragraph. It can be narrow or broad depending on the level and depth of the essay. Think of this as the 'what' aspect. For example, the claim for a high-school informative paper would be broader than a claim written at the university level. This is the first step to signposting your essay. It provides a logical and easy way to follow a discussion.
The Supporting Evidence
After making a claim you want to back it up with supporting evidence. Supporting evidence could be findings from a survey, the results of an experiment, documented casual effects or a quote. Anything that lends support to the claim or statement in the first sentence would work. This is the 'why' aspect of your research. By using supporting evidence like this, you are defining why the statement is essential to the topic.
Explanation
After you state the supporting evidence, you want to explain 'how' this finding is important to the subject at hand. That usually unpacks the supporting evidence and makes it easier for the reader to understand. So, an explanation is to explain how this claim and the supporting research affects your thesis statement.
Concluding Sentence
You should always finish a body paragraph with a concluding sentence that ties up the paragraph nicely and prompts the reader on to the next stage. This is a signpost that the topic and the paragraph are wrapped up.
How to Write the Conclusion of an Informative Essay
Writing a conclusion to an informative paper can be hard as there is no argument to conclude – there is only information to summarize. A good conclusion for these types of essays should support the information provided on the subject. It should also explain why these topics are important.
Here are some Tips on writing informative essay conclusions:
Rephrase Your Thesis Statement
It is vital that you rephrase the thesis and not copy it word for word. That will allow you restate the theme or key point of your essay in a new way. You will simultaneously tie your conclusion back to the introduction of your essay. Echoing your introduction will bring the essay full circle.
Read Through Your Body Paragraphs
Read through the body paragraphs of your essay and ask if a brief overview of the main points of the essay would form a good conclusion for the essay. Generally, it is best to restate the main points of the essay in a conclusion using different words.
Finish the Conclusion With a Clincher
A clincher gives your concluding paragraph a powerful finish. It is a sentence that leaves the reader thinking about your essay long after they have put it down.
Some excellent examples of clinchers are:
A statement of truth
A thought-provoking quote relevant to the subject and thesis statement
A lingering question that none of the research has answered or puts the research into a new light
Whether it provides an answer to a common question
Challenge your reader with a quote from an expert that forces them to think about or change their own behavior
Something that shifts the focus onto the future and the long-time implications of your research
Context and Significance of the Information
A conclusion should always try to frame why the topic was important, and in what context it was important. By doing this your research matters.
Remember: A concluding paragraph should never include new information.
Informative Essay Sample
Be sure to check the sample essay, completed by our writers. Use it as an example to write your own informative paper. Link: Tesla motors
Tips for Writing an Excellent Informative Essay
Here are a few tips for writing an informative paper
When writing the main body paragraph, concentrate on explaining information only once. Avoid repeating the same information in the next section.
Focus on the subject. Make sure all the information that you include is relevant to the topic you are describing. Do not include information that "goes off."
Write in a logical way that is signposted. Writing like this will make an essay flow and mean it is easier to understand.
Always revise the essay at least three times. This way, you will find where to expand ideas in the paragraph, where to trim back ideas until everything has the right balance.
Be familiar with the academic reference style you are writing in
Write to your audience. Make sure you know who you are writing it for.
23 November, 2022
27 minutes read
Guides
Best Essay Writing Services 2023
Student life can often be quite challenging because students have to deal with challenging college essay writing assignments. To facilitate the learning process, many services help you complete written work and get high scores. Now we will tell you about the best services that you can turn to and get high-quality papers. Essay Writing Service […]
Read more...