Guides
31 July, 2020
8 minutes read
How to Assemble the Essay Structure?
Essays can be tricky to write: they're more structured than narratives but less intense than a research paper. If you've been assigned an essay, the first step is to understand essay structure. Not sure where to start? No problem! We've got you covered.
Essays can be tricky to write: they're more structured than narratives but less intense than a research paper. If you've been assigned an essay, the first step is to understand essay structure. Not sure where to start? No problem! We've got you covered.
Essay Structure 101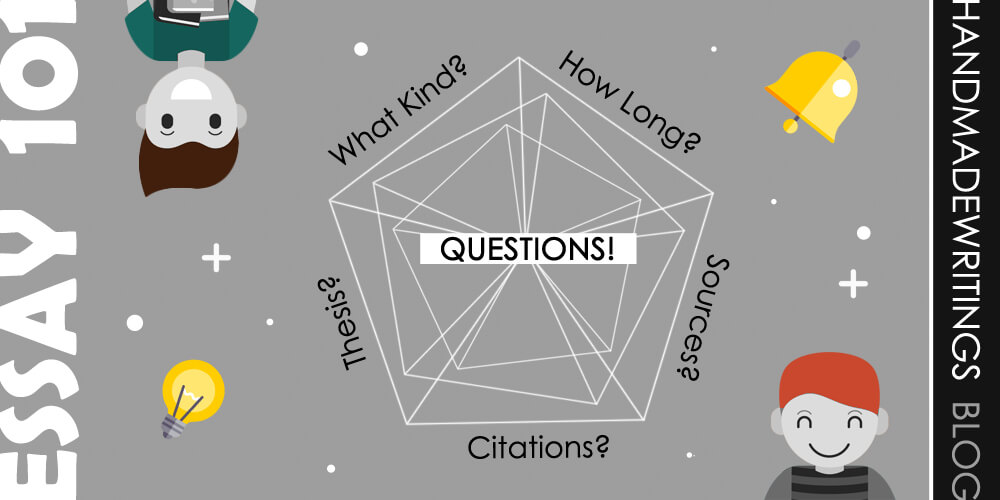 In a nutshell, an essay is an argument. Its point is to pose a question and provide evidence to support the answer. The writer's goal is to have the reader agree with the argument or idea. The ideas should be presented logically, in order that cohesively builds the argument. Even the illustration essay, which exemplifies an idea or concept, provides a framework for the reader to follow. Most essays require research to validate the writer's stance.
Before beginning an essay, it's helpful to answer the following questions:
What kind of essay am I writing?
How long does my essay need to be?
What is my thesis?
Where can I find reliable sources?
What citation method does my professor require?
Once you've answered these basic questions, you're ready to outline your essay structure and begin researching.
Raising Questions and Offering Answers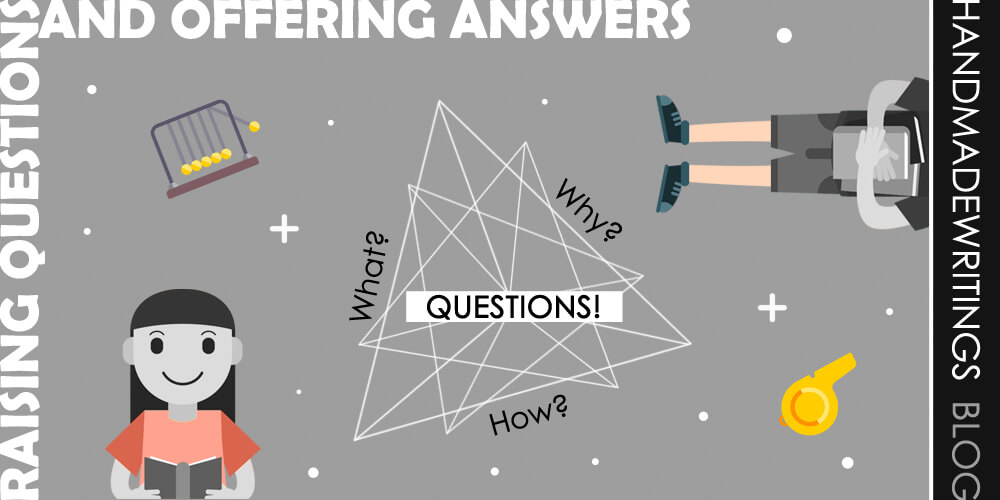 Since an essay's goal is to argue a particular point successfully, it's important to state the argument clearly. When brainstorming the essay, ask yourself three fundamental questions regarding the topic: "What?", "Why?", and "How?" Use the answers to these questions to help organize the essay itself.
What?
Consider what evidence supports your claim. If the thesis argues that climate change regulations should be mandatory in all countries, ask what evidence proves this to be true? The "what" questions can turn into elements that support body paragraphs.
Why?
"Why" questions are useful in crafting the introduction and conclusion paragraphs in the essay.  Why should readers care about this topic? Why is this topic relevant? Answering "why" questions strengthen the relevancy of the essay's topic.
How?
Then, you need to ask "how do all sides view this topic?" "How do counterarguments affect the validity of the arguments in the paper?" Responding to "how" questions help craft a stronger paper. Answers to how questions may appear in body paragraphs or become a counterargument paragraph themselves.
How to Structure an Essay
The parts of an essay are relatively uniform. The essay structure begins with an introduction, contains several body paragraphs, and ends with a conclusion. Most essays will require cited sources, so should also have a Works Cited or Bibliography page. When deciding on how to write an essay outline, you should know what type of paper you're writing. Here are some basic essay structure types:
Regardless of the essay type, each essay structure has three different types of paragraphs. Let's look at how to structure an essay.
Introduction
Basic essay structure begins with an introduction. It should offer valuable background information to the reader. An introduction paragraph may provide historical or sociological context to frame the topic. It can also showcase current trends regarding the topic or current research.
This paragraph should end with the thesis, or the idea the essay is focused on answering. Usually, the thesis statement is the last sentence in the paragraph and works as a transition to the body paragraphs.
Body Paragraphs
In the essay structure, body paragraphs exist as the most important part. These paragraphs offer the evidence to support the thesis's claim. Each paragraph offers a different idea that supports the argument. Here, all the facts, ideas and background information will appear.
Body paragraphs should begin with a topic sentence, offer cited research, explain the research, and transition to the next idea. Handmadewriting professional essay writer help recommend to use the following essay structure of a body paragraph:
Topic sentence that links to the thesis
Background information
Cited evidence #1
Analysis of evidence
Cited evidence #2
Analysis of evidence
Optional: cited evidence #3
Optional: analysis of evidence
Review of idea and evidence
Transition to next paragraph
In high school, many teachers assign a five paragraph essay. This essay has an introduction, three body paragraphs, and a conclusion. However, in college, essay structure can be more fluid; the introduction may consist of two paragraphs and have seven body paragraphs. The number of body paragraphs should depend on the number of ideas to support the thesis.
Conclusion
The conclusion's purpose is to review points and show the reader how you've achieved the argument.  No new information should be introduced in this paragraph. Answering "why" questions is appropriate in this section: why is this topic important? Why should readers care about this topic? While the number of introduction and body paragraphs may shift, there is usually only one conclusion paragraph.
"I need someone to write my essay!" – That's something we hear a lot. The good news is that you are in the right place to find help. HandMadeWriting is the best essay writing service on the web.
Tips on Structuring the Essay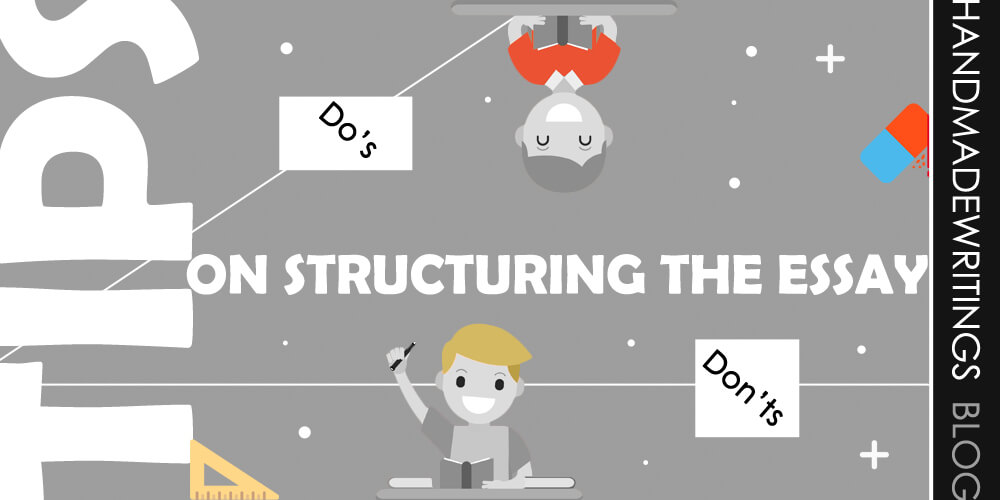 When you've decided on a topic, and done the research, it's time to tackle the essay structure. Sit down with the research and figure out the best place to insert it.  Here are the best practices:
Do's
Don'ts

Know the type of essay assigned
Generate a clear, accurate title
Develop a sentence outline
Place the thesis at the end of the introduction
Determine the best paragraphs for research content
Ensure that each paragraph offers a single idea
Remember: new idea, new paragraph
Cite research as you go along
Answer the "how", "what", "why" questions to develop a strong argument
Avoid introducing new information in the conclusion
Review the essay to ensure it meets state guidelines

Procrastinate
Create a general title

No: Climate Change
Yes: Climate Change as a Critical Factor in Habitat Extinction

Develop an overly simplistic or too complex thesis statement
Begin writing without an outline
Start writing without gathering research
Organize your paragraphs based on sources; work to fit your sources into you argument
Propose an idea without adequate support
Discuss two ideas in a single paragraph: one idea per paragraph
Summarize information—analyze it
Blend types of essays; narrative essays should never be mixed with cause and effect essays
Remember: writing help is out there if you need it.  Make an appointment with your professor during his or her office hours.  Ask a classmate for clarification. Or just get professional help from an essay writing service. Above all, the writing is a process with a beginning, a middle, and the end.
Check our academic paper writing guide to find more tips on academic writing!
23 November, 2022
27 minutes read
Guides
Best Essay Writing Services 2023
Student life can often be quite challenging because students have to deal with challenging college essay writing assignments. To facilitate the learning process, many services help you complete written work and get high scores. Now we will tell you about the best services that you can turn to and get high-quality papers. Essay Writing Service […]
Read more...