Guides
05 May, 2020
7 minutes read
How to Write a Capstone Project?
Depending on your professor, he or she may define a capstone project as a capstone experience, a senior exhibition, or a culminating project. All of these terms refer to the assignment known as the capstone project. So what is a capstone project? Good question!
Depending on your professor, he or she may define a capstone project as a capstone experience, a senior exhibition, or a culminating project. All of these terms refer to the assignment known as the capstone project. So what is a capstone project? Good question!
If you've never had to do one before, don't worry—you surely have the skills to complete it. According to The Glossary of Education Reform, this particular type of assignment is "…a multifaceted assignment that serves as a culminating academic and intellectual experience…". Simply put, the goal of this assignment is to integrate a variety of skills and knowledge acquired throughout the length of an entire course.
Still wondering what is a capstone project? Here are a few more defining details. These types of projects are considered long-term and are assigned well before their due date. Students are often asked to select a topic of interest, conduct research, track their process, and create an original final project to share the entire process and findings. Capstone projects rarely culminate in a single paper. They often involve portfolios and/or a multimedia presentation of some sort as well as an oral presentation. Check out these capstone projects at Yale University.
While this type of assignment is for a single class, presentations may be presented in front of a panel of teachers or professors as well as community stakeholders. Capstone projects are long, involved, require a great deal of planning, and are often heavily weighted in a student's overall grade. In short, they require students to demonstrate a wide variety of skills in a multi-stage assignment.
Related post: How to write a Research Paper outline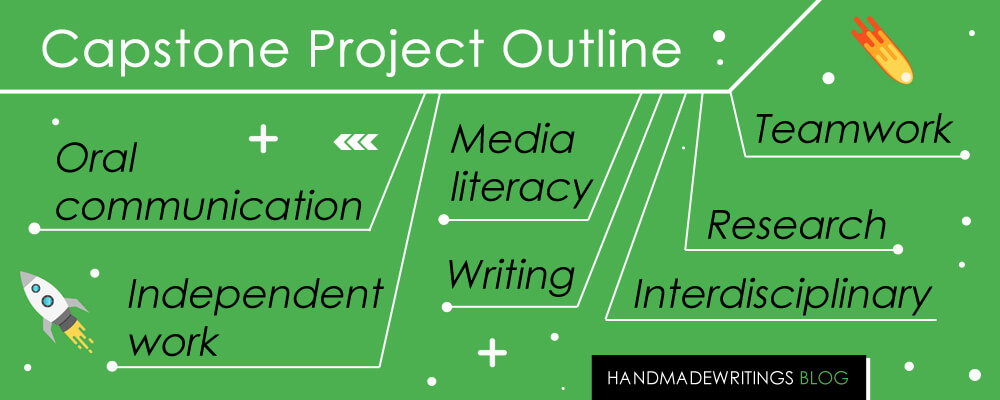 Capstone Project Outline
When you first receive this type of assignment, it's a good idea to sit down and brainstorm a capstone project outline. Taking the time to map out your approach will save a great deal of time later. This type of project requires a broad range of skills including the following:
Research
Writing
Media literacy
Teamwork
Independent work
Oral communication
Interdisciplinary
Identify any weak areas early and develop a plan to tackle them head-on. Most professors allow students to select the best presentation method for their capstone project; therefore, you'll have the ability to select a final product that you'll enjoy doing. This could mean creating a public service announcement or perhaps a pamphlet to be distributed at a local event. It could also mean presenting your research at an appropriate local event. The first step in approaching what is a term paper is to consider your final product. Once you've determined where you're going, it will be much easier to plot a path to get there.
Once you've determined your final outcome, it's time to create a capstone project outline. Brainstorm the best sources for research. Consider creating questioners for professionals in the field you're researching and make appointments to interview them to get primary source information. Consider investigating multiple forms of information including newspapers, magazines, journals, and other informational texts. Consider the problem from various viewpoints to ensure that you're covering all aspects of your chosen topic.
Next, you'll need to organize all your research into logical groups to present it in some way. Whether you create a multi-media presentation, give a lecture, create a brochure, or air a PSA, the information will need to be easily accessible to the audience and accurate.
Related post: Argumentative essay topics
Capstone Project Format
Your capstone project format can take a variety of different shapes. Since each capstone project format may be different depending on the issue that you're researching, it is very important to get approval for your idea from the teacher or professor. Before you begin any type of research, be sure that your project is in line with what the professor wants. Set up a meeting during office hours to review your goals, your approach, and your final product. Once you have approval, you're good to go!
Not sure how to approach your capstone project format? Here are some potential ideas:
Creating a business plan for a product or service that would solve a current issue in the community; the plan will be presented and assessed to local industry leaders and community stakeholders
Create an air a PSA concerning a local issue
Write and illustrate a children's book on an important issue; present the book to age-appropriate children and lead lessons on issues in the book
Designing an app to help a specific population or address a specific community need
As you can see, a capstone project format can take a variety of different forms. While there is certainly writing involved in the "what is a capstone project", the emphasis will be on the culminating project.

Capstone Project Writing
Once you're finished with the capstone project format it's time to get down to the capstone project writing. Depending on what your capstone project format it will depend upon the type of capstone project writing you'll need to do. While some students will be focused on scripts and press releases, other capstone project writing will be more along the lines of formal reports or text for multi-media presentations.UTICA College has a great step by step guide for approaching all the parts of capstone projects. Whether you need to write a formal report or many smaller pieces of text for a brochure or oral presentation, the same rules apply. All capstone project writing should be grammatically perfect and well-organized.
Related post: Research paper topics list
Hopefully, this guide has answered basic questions regarding what is a capstone project. Remember: this type of assignment is meant to be a culminating activity. This means that it will rely on all the skills you've learned throughout the course to make it a success. Choose your topic wisely; you'll be spending a great deal of time researching information, organizing it, and presenting it. Planning out your approach and setting milestones for your project will be essential to its success. You'll need to avoid procrastination and work diligently throughout the duration of the project. Ask your professor and/or mentor for help; they will be invaluable resources during this important assignment.
Feel free to buy essay online with our pro essay writer service.
23 November, 2022
27 minutes read
Guides
Best Essay Writing Services 2023
Student life can often be quite challenging because students have to deal with challenging college essay writing assignments. To facilitate the learning process, many services help you complete written work and get high scores. Now we will tell you about the best services that you can turn to and get high-quality papers. Essay Writing Service […]
Read more...